Why I am Interested in This Topic
My last classroom gig was at a high school in Dallas, Texas.  The racial/ethnic makeup was approximately 72% Latin@, 18% Black, and about 8% White.  It was here that I observed ELLs' frustrations and anxiety associated with learning a new language.  Many times teachers only saw the lack of motivation without looking into the whys.  I have also seen this from an administrator's perspective at a very high performing middle school outside of Denver, Colorado.  The school was located in an area where the median family income was approximately $145,802.  However, the school boundary included a disconnected, gerrymandered, home-rule community with a median family income of $29,521.  This school's racial/ethnic makeup was approximately 70% White, 15% Latin@, 2% Black, and 13% other.  Student surveys indicated that the students of color did not feel connected to the school.  In my observations, general education teachers often struggle with how to establish reciprocal relationships with ELLs as well as how to implement instructional and learning strategies that are effective with ELL students.   Unfortunately, we don't have enough language acquisition teachers, and we don't have enough SpEd teachers to meet all of the co-teaching needs.  Consequently, the purpose of the information on this page is to help general education teachers create their pocket of greatness by helping them gain knowledge about sheltered instruction, find resources, locate tools, and discover activities to help improve academic outcomes for ELLs.
Background
One in four children in the United States is now from an immigrant family with Mexico being the dominant country of origin (Brown & Hui, 2013).  Dropout rates for Latin@s remains high compared to other races and ethnicities.  The dropout rate for Asians/Pacific Islanders (3.4%) is the lowest among the racial/ethnic groups.  Whites had the next lowest rate at 5.2% followed by African Americans at 9.3%.  The overall rate for Latin@s was 17.6%.  Furthermore, from 1972–2009 the percentage of Latin@ dropouts was consistently higher than that of African Americans and Whites.  White and Black dropout rates fell from 12.3% to 5.2% and 21.3% to 9.3%, respectively, during the period from 1972 to 2009.  It is important to note that Latin@ dropout rates since 1990 have fallen from 32.4% to 17.6%; however, in 2009, 31.3% of Latin@s born outside of the United States ages 16- 24 were high school dropouts.  More broadly, in each recency of immigration category, Latin@ students had higher dropout rates than non-Latin@ students (Chapman, Ifill, & KewalRamani, 2011).
Vygostky (1978) contended that children cannot master reasoning without having mastered language: Language is the basis for acquiring socially and historically rooted activities that are passed on from generation to generation through human interaction such as between a student and teacher.  Most importantly, Vygotsky emphasized that language is the most important of all the mental tools as it is the mechanism for thinking.  Likewise, language is the tool by which information is passed from one individual to another.  Through verbal expression, language becomes the mechanism for thinking and acquiring new knowledge.  Furthermore, children learn by talking to each other and then progress by talking to themselves about it: This enables them to advance towards being independent learners.  Vygotsky's point is that language is the tool that carries practice into the mind.  Moreover, learning involves more than one human, and that teachers add great value by assisting children in the use of approaches to further their learning capabilities.
Culture is a mediating mechanism for how students adapt and interact with their schooling.  Consequently, it is important for educators to understand what those behaviors may look like in your classroom.  Below are some stages of adaptation for immigrant children that you may see in your classroom:
Preliminary- this is typically a time where the student is fascinated with everything and is excited to learn.  They may demonstrate cooperation and a desire to please.
Spectator- this is when the concept of change overcomes the concept of newness and reality sets in.  The student may become fearful, anxious, and lonely.
Increasing participation- the student may be concerned for their academic survival when they notice the clash of cultures.  Here the student may demonstrate a mix of emotions.
Culture shock- the student recognizes the loss of familiar signs, symbols, and cues from their native culture.  The student may demonstrate mistrust, fear, frustration, insecurity, hostility, and become withdrawn.
Instrumental adaptation- this is where the student chooses ways to deal with their emotional, educational, and social issues.  In this phase, the student may retreat into their native culture, feel they have to give up their native culture to fit into the mainstream culture, or become part of the new culture while still maintaining connections to the customs and values of their original culture.  In this phase, the student may exhibit flight, fight, or integration.
Integrative adaptation- this may also be called the mainstreaming phase based on decisions made by the student in earlier phases.  Here the student may split the cultures of the home and school lives or they may integrate parts of both cultures into their lives and school experiences.  Educators should look to see if there is embarrassment of the student's first culture and/or a lack of acceptance of first culture in the mainstream culture.
Structured adaptation- this is the deepest level of adaptation where the student grows comfortable in the second culture while maintaining a deep and integrated connection with their first culture.  The authors note that this typically doesn't occur during the first generation.
(Hamayan, Marler, Sanchez-Lopez, & Damico, 2013)
In conclusion, it is important to reach out, consult, and collaborate with the student's family- however difficult and complex this may be.  The family's practices impact student achievement and language acquisition.  It is also important to consult and collaborate among teachers.  The home/school microsystems must be collaborative and bridged in a way that benefits the student.  The language in students' homes can be used to build on when the student is learning to speak, listen, write, and read English.  Even if the education level of the family is low, they can still help by doing things like monitoring homework and television/electronics usage.  It is important to create authentic participation opportunities for the family in the school and classroom.  Likewise, teachers and parents can collaborate to provide a support team for the student: Teachers and the student's family can align themselves on study strategies, homework calendars, school policies, and overall consistency between home and school.
Self-directed Learning
Study Finds Minority Students Are Underrepresented in Special Education
Familiarize Yourself With WIDA
Here are some print resources that I recommend: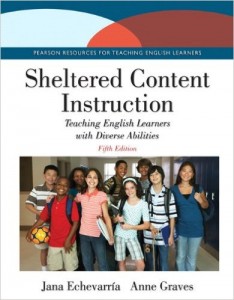 Sheltered Content Instruction: Teaching English Learners with Diverse Abilities (5th Edition) by Jana J. Echevarria and Anne Graves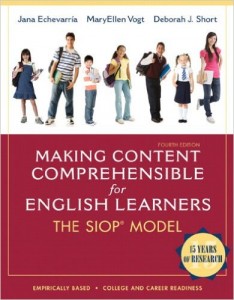 Making Content Comprehensible for English Learners: The SIOP Model (4th Edition) by Jana J. Echevarria, MaryEllen Vogt, and Deborah J. Short
Special Education Considerations for English Language Learners: Delivering a Continuum of Services (2nd Edition) by Else Hamayan, Barbara Marler, and Jack Damico
There are numerous common intersecting elements between SIOP and how many districts define effective teaching.  I would add another element, and that is the need for high reliability.  High reliability is ensuring that the framework is applied with fidelity for every student and in each classroom throughout the school.  A student's success shouldn't be left to chance depending on the teacher or the classroom.
What do you see as the applications and strengths of the lesson(s) you observed?
Where do you need to see growth based on the lesson(s) you observed?
What small step or idea might you start with tomorrow and incorporate in your classroom?
What would be your one sentence summary after watching the video(s)?
What one word describes how you feel about what you have learned here?
References
Brown, C. S., & Hui, C. (2013). Gendered conceptions of ethnicity: Latino children in middle childhood. In S. S. Chuang, & C. S. Tamis-LeMonda, Gender roles in immigrant families, advances in immigrant family research (pp. 139-153). New York: Springer Science Business Media. doi:10.1007/978-1-4614-6735-9_9
Chapman, L. J., Ifill, N., & KewalRamani, A. (2011). Trends in high school dropout and completion rates in the United States: 1972-2009. National Center for Educational Statistics. Washington D.C.: U.S. Department of Education. Retrieved from http://nces.ed.gov/pubsearch
Hamayan, E., Marler, B., Sanchez-Lopez, C., & Damico, J. (2013). Special education considerations for English language learners; delivering a continuum of services (Second ed.). Philadelphia: Caslon Publishing.
Vygotsky, L. S. (1978). Mind In society: The development of higher psychological processes. Cambridge: Harvard University Press